QuicRun Regler WP-1080-Brushed Crawler 80A
Our recommendation for all who are looking for a really good RC crawler controller. Small, strong and light. The Hobbywing Quicrun 1080 has practically everything you need. Even the clocking is adjustable. This reduces the usual beep noise of the motor to almost zero.
The Hobbywing Crawler Brushed ESC is waterproof and is usable in all weather conditions, wet or dry. The strong built-in BEC is adjustable in voltage, 6V or 7.4V and with 6A peak load also sufficiently dimensioned for strong servos with 25kg force and more. With the included LED programming card, a simple setting is quickly done, even on the go. With the adjustable parameters, there are well over 80 setting options, you have soon created your optimal setup for your own vehicle. Hobbywing Quicrun 1080. Our recommendation for all brushed RC Crawler cars.
SPECIFICATIONS

Special Design for 1/10th, 1/8th Crawlers
BEC: 3A continuous and up to 6A peak load, adjustable to 6V or 7.4V
Waterproof
15 menu items for personal controller settings
LED programming card included
Perfectly adjustable drag brake
DEO technology for sensitive and effective control behaviour
Separate programming connection
Small, light and yet robust
XT60 connector installed
TECHNICAL DATA

Type Brushed
Current continuous/short 80A/400A
Number of cells 2-3s LiPo / 5-9 cells NiMH
Motor Limits 2s LiPo, 6s NiMH: > 10T or RPM 16T or RPM
Engine size: 540/550/775
BEC Switch Mode: 6V/7.4V with 3A, 6A peaks
Battery plug XT60
Dimensions 36.2x31.6x17.0mm
Weight 58.5g
Waterproof Yes
Insert 1/8, 1/10 Rock Crawler
DELIVERY SCOPE

1x controller
1x LED programming card
1x programming cable
1x sticker sheet
Shrink tubing, cable ties, adhesive pads
1x Manual (English)
DETAILS
---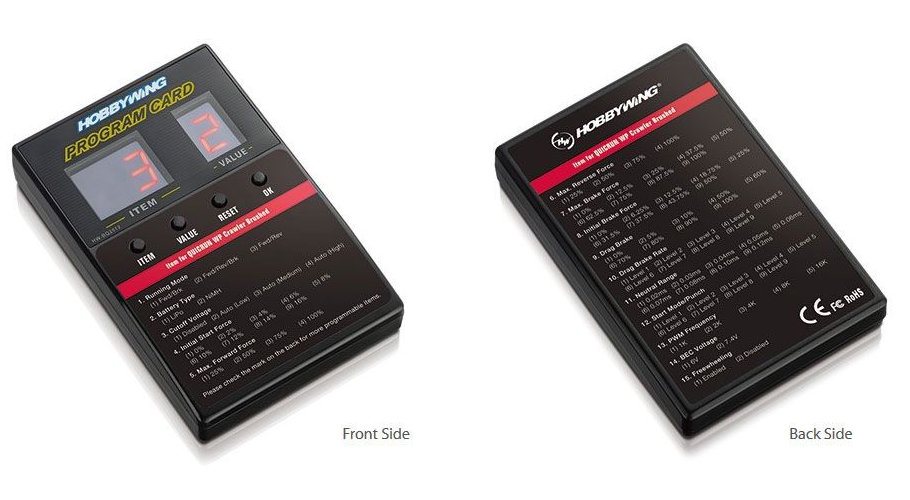 LED program box
The standard, separate LED program box is included in the scope of delivery. You allows the user to easily program the WP crawler brushed.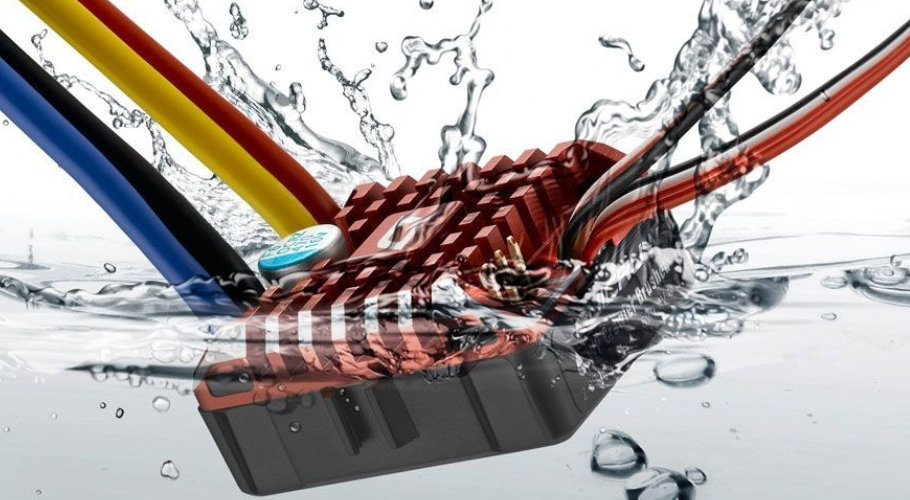 Impermeability
he ESC is water- and dustproof and can therefore be used in all environments and in any weather situation.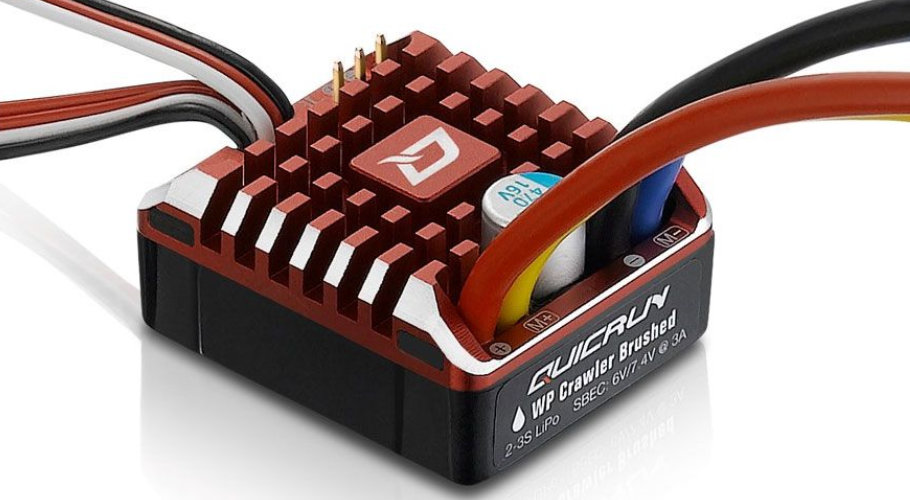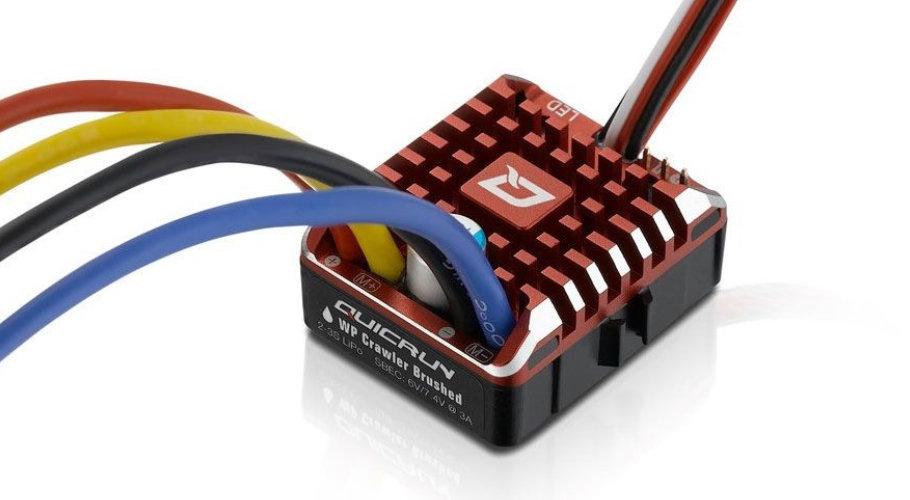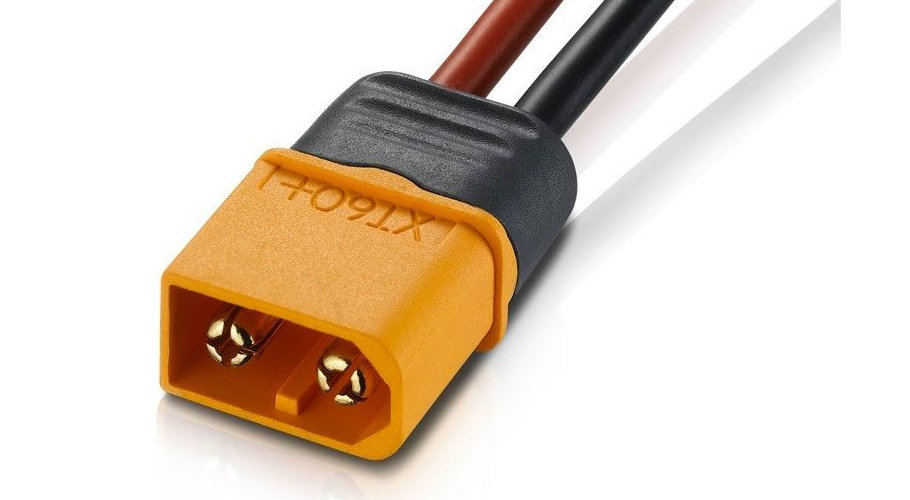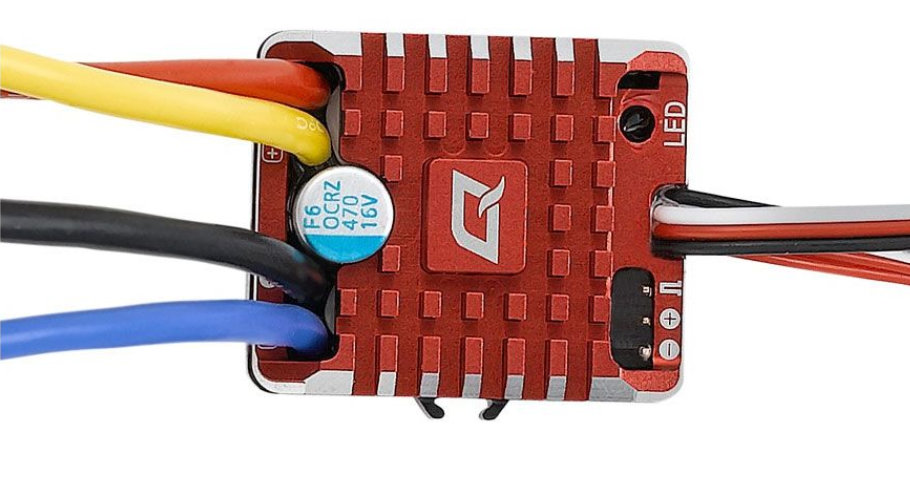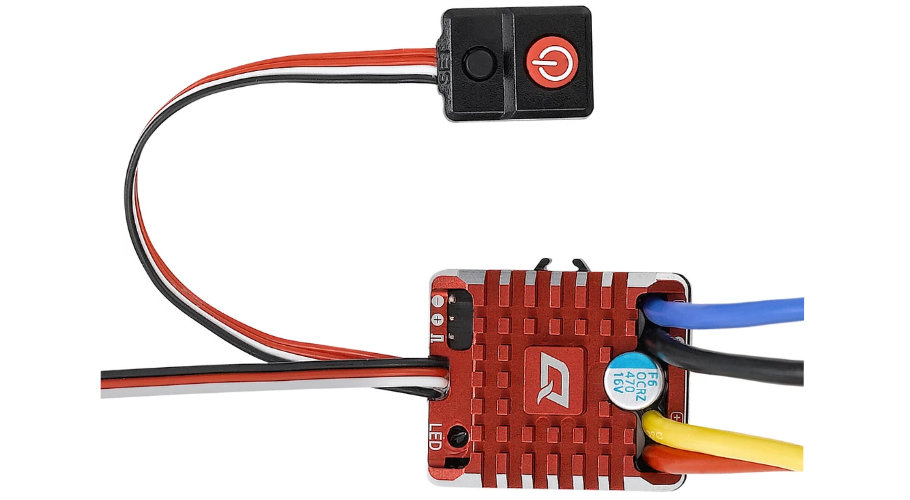 ---
Customers have also bought the following items