The ARRMA GRANITE 4X4 V3 MEGA RTR Monster Truck is DESIGNED FAST, DESIGNED TOUGH ? built for exciting bashing speeds and extreme, all-terrain durability. Additional new features to enhance its unstoppable performance include a stronger chassis and retained hinge pin plates; steering with more clearance for stones; a castellated slipper pad and sliding gear mesh; and rubber shielded bearings throughout.
TECHNICAL DETAILS
SCALE: 1/10
MAX SPEED POSSIBLE: 30Km/h / 48km/h
POWER TYPE: Brushed
BUILD STATUS: RTR
BUILD CONFIGURATION OPTIONS: Mid Motor
DRIVE TYPE: 4WD
VEHICLE TYPE: Monster Truck
SURFACE: Off-road
LENGTH: 451mm / 17.76"
WHEELBASE: 287mm / 11.3"
RIDE HEIGHT: 47mm / 1.85"
FRONT WIDTH: 342mm / 13.46"
REAR WIDTH: 342mm / 13.46"
HEIGHT: 206mm / 8.11"
NUMBER OF DIFFERENTIALS: 2
WEIGHT (INC. SUPPLIED BATTERY): 3.04kg / 6lbs (Pfund) 11oz (Unze)
BATTERY RECOMMENDATIONS: 8.4v (7 Cell) NiMh Hump Pack or Hardcase 7.4V (2S) Lipo within max dimensions 156 x 51 x 48mm / 6.14 x 2.01 x 1.89 inches
DETAILS
---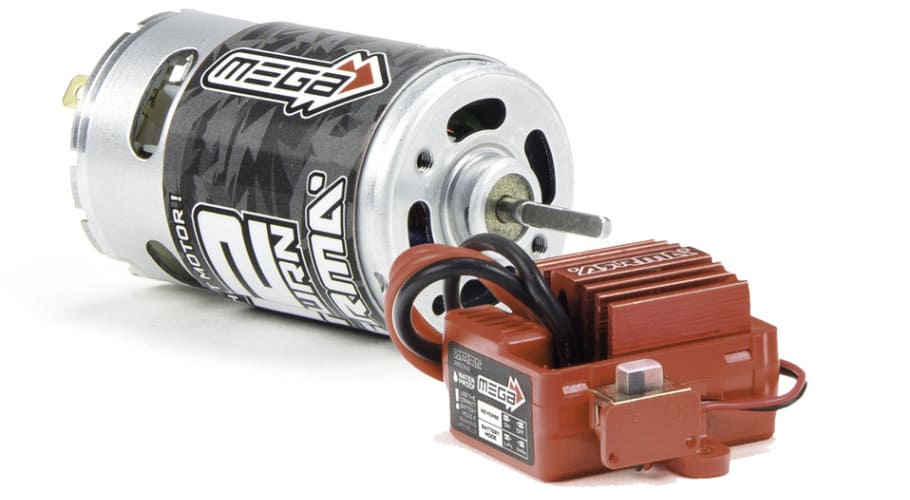 LARGER PULL TAB ON POWER MODULE: improved sealing to reduce dirt ingress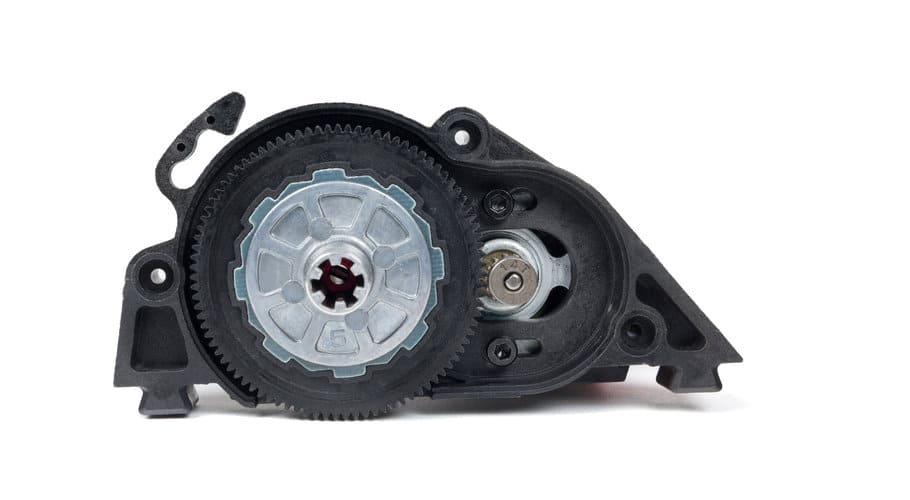 Castellated slipper pad addes toughness
Fully adjustable sliding gear mesh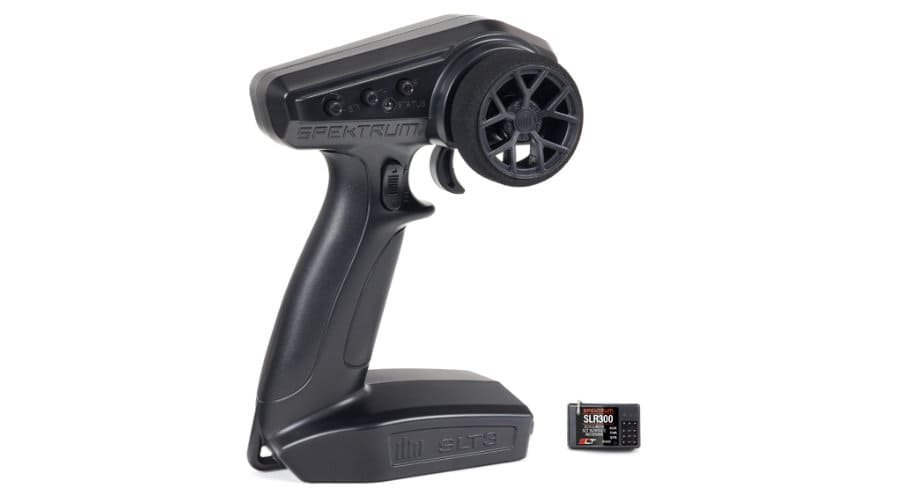 SPEKTRUM SLT3 RADIO: Superb SLT response rate; 50% and 75% throttle limited switch - great for beginners; Steering and throttle/brake have adjustment options such as trimming and reversing the direction of rotation; Foam steering wheel grip; Compatible with Tactic Receivers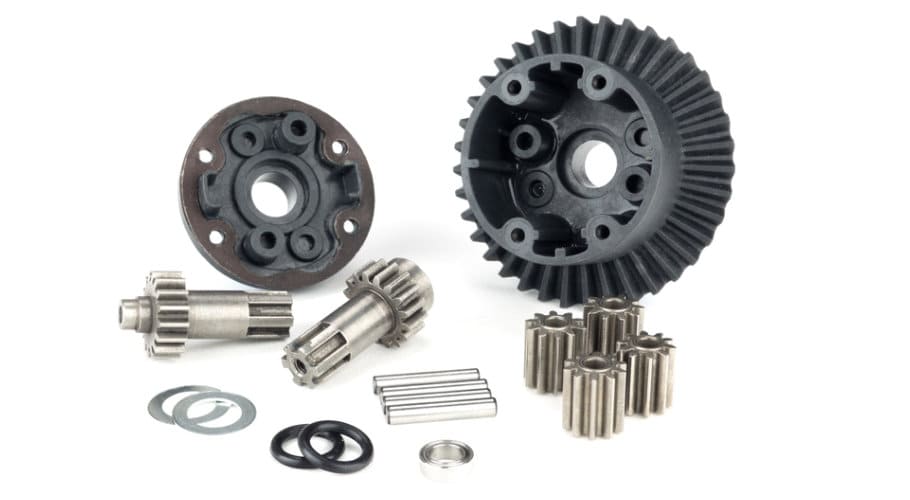 Tougher brushless / Ready transmission: Metal input spline moulded info composite gear, same gears as the Arrma 4S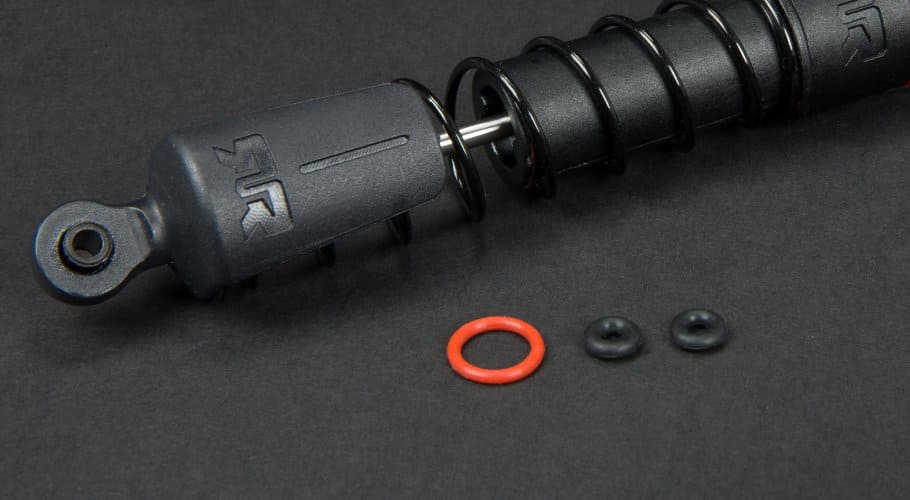 Silicone O-rings: smoother operation and better sealing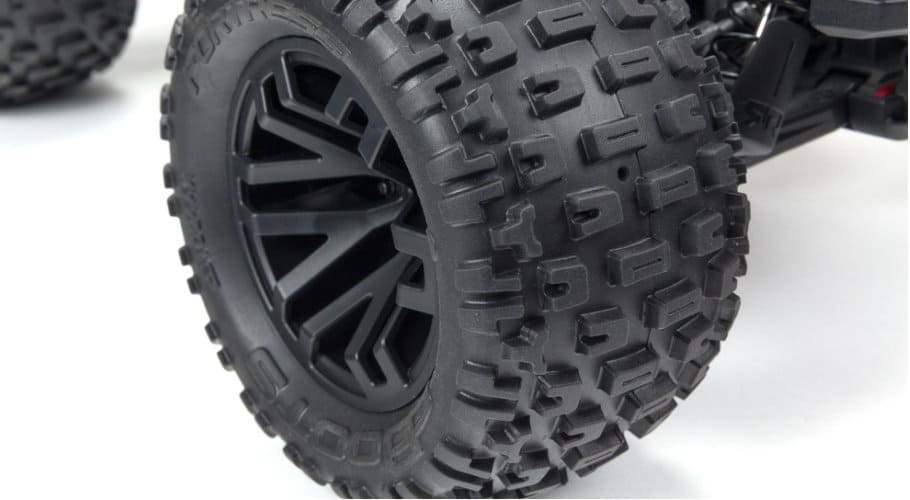 High quality vented dBoots FORTRESS MT tires coupled with multi-spoke wheels offer superb bite on a multitude of surfaces.
---
CAUTION: Not suitable for children under 14 years. To be used under the direct supervision of an adult'.